Whereas mechanization provided human operators with machinery to assist them with the physical requirements of work, automation greatly reduces the need for human sensory and mental requirements as well. Processes and systems can also be automated.
School Bell Timer,Projectors,PA Systems,EPABX,UPS,Inverter,Security Automatic Light.
Home automation operates mainly in four areas:
Energy management
Home automation means optimised energy use in terms of both consumption and cost. With a home automation system you can enjoy all the comforts of home while making significant savings in terms of energy and cost. This system takes full advantage of the different tariffs for different time periods, making the most use of the lowest prices.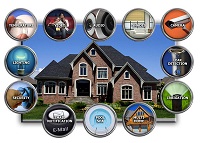 Smart systems provide you with efficient management of your heating, air conditioning, electrical appliances and any lights you may have forgotten to turn off, all in an easy and smart way.
Security management Access and intruder monitoring
Make people think you are at home with a system that turns lights on and off, receive a warning as soon as anyone tries to enter the premises... these are just two examples of what a home automation system can offer you in terms of security.
Home automation systems offer you complete security management. A series of sensors warn you of potential water or gas leaks, fire, or even intruder entry.
You can also program them to turn the lights on and off if you are away from home for a long time, or warn you by mobile phone if someone tries to enter your house.
Managing comfort
Home automation systems are designed with high security and comfort levels in mind. Most of our appliances such as music centres, videos or TVs have a remote control. With home automation you can have a single remote control for everything. Wouldn't that make life easier?
Managing communications
Home automation systems not only offer a great variety of communication systems for your home; they also centralise the management of audio, telephone, video and computer signals to make them easier to use and control. All communication points in your home can be interlinked via a "loop" carrying audio, telephone, video and computer signals.